The feeling of absolute
bliss
experienced when someone lays down and feels at one with their bed. Can be achieved
spontaneously
, such as after a long day, or through some combination of breathing, music, massage, and
memory foam
. Usually a precursor to falling asleep, and always rejuvenating for the mind, body, and spirit.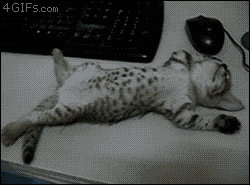 Simply a combo word ( verbal
amalgam
) of
meditating
in bed. More specifially,
meditation
which takes place in those moments in bed( usually in the morning ) while one temporizes life away while forestalling the inevitable rising into the real world.
Her mind drifting from subject to subject,
Erika
beditated for a full hour after her alarm rang
sommoning
her to life's
daily grind
, school.
buy the domain for your cat site
Trending RN - January 22, 2019