When a heteroseuxal guy does something romantic for another
hetrosexual
guy. Its a bromantic thing to do.
Caution
bromance
is not to be confused with a gay relationship.
Andrew
: 'Steve did we just call each other at the same time'
Steve
: 'Yeah we did haha'
Andrew: 'Omg
that's so
Bromantic'
When two
straight men
have a close relationship and people think they are really dating. Being
bromantic
includes going on bro dates and hanging out together.
"Hey tony , you and him huh? "
"
ha ha
yea we're pretty bromantic "
"Cuutee"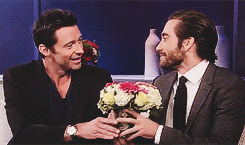 Bro 1: "I had a
great time
last night, man. It was really bromantic."
Bro 2: "
Me too
bro, I enjoy spending time with you,
no homo
."
When two heterosexual male friends are treated as if they are a couple out on a date. This usually occurs when the friends go out to dinner. Much to their
chagrin
, the two guys get seated off in a cozy corner and the waitress is extra nice and supportive all of a sudden. When the waitress eventually figures out that the guys are checking her out, she will stop
being nice
. She will then treat them as just two regular a*&#0!
3s
.
Wife: How was your
dinner
with Bob?
Husband: Cool, but the
waitress
thought we were
a couple
having a bromantic evening.