this is a type of girl that you want to meet no matter what. shes some what dumb but you'll love her any way. you gotta meet this girl she'll change you.
damn that girl is a sarai
The most sweetest girl you will ever meet beautiful, smart and a great sense on humor she will be the best friend you will ever have. she will be there you for no matter what if you meet a Sarai hold her close she will be a life long friend.
I met this girl she is such a sarai!
A loving caring person puts other problems in front of hers always tries to help those Who are in need dosent want to burden others with her own problems gorgeous personality and persona someone that is easy to get along with extremly friendly smart classy intellligent overall someone you like being around with and once you become friends with you aren't going to want to let go
"Sarai is so amazing
Sarai- Means "My princess" in the Bible. One of the most beautiful girls you will meet, if you're ever so lucky. She's Sexy, A Go-Getter, Down to Earth, and basically the girl of your dreams. If you get a Sarai, you've got yourself a Keeper. (One in a million)! She's very Intelligent, educated, and open-minded. She has the oh-so-innocent Bambi eyes that forever glisten with swelling emotion.. But don't be fooled, as she guards her heart intently. She will literally do anything to protect her precious emotional orbit and stay safe. But once she lets you in her world, she will love like no other woman has.

Her unwavering confidence, impossibly perfect smile, big ass, and tiny waist will have you falling in love with her in no time. Anyone in Sarai's path Is awestruck by her charming nature, but as sweet as she is, she is by far the kinkiest girl you will encounter, with a high sex drive, and an imagination that runs wild. Where you are weak, She is strong, Where you cannot see, She will shine a light. She cares a great deal for her friends, family, and helping others out. Her big heart will set your soul on fire, spreading joy near, and far. Sarai Is non-threatening, "relatable" and undeniably lovable. There will be Another fall, Another spring, but there will never be another Sarai.
Wow, she's everything you dream about. A 10/10
-That's Sarai for you.

Shawty got bomb ass sex for real,
not to mention she so loyal.
-Where can I get a Sarai?

Chris: Sarai, god spent a little too much time on you.

Sarai: Thanks babe, Sarai's don't come around too often.

Chris: Gotta thank your momma for giving you a name so unique that matches your unbelievable beauty.
is so awesome that weak people are jealous of her. she got haters, thank God! it means she's real.. it's ok she loves them too.. Sarai is lager than life and a self made woman. all they have is a bad attitude and a keybord.. so when you handle someones insecure bullshit with grace that is called a Sarai... also see amazing bubble booty..
that guy was freaking out over minutia, yelling at everyone.. but i handled it like a Sarai and just told him if he can't control himself maybe he should buy a computer so he can blast on the internet from a safe distance like the weak coward he is..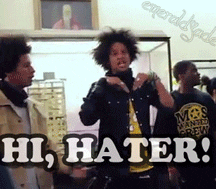 A wonderful person. Regardless of her physical features, she's an even more beautiful person on the inside. She's shy at times, but once you're around her long enough, her happy vibe rubs off on you.
I like Sarai platonically.