TV: "
Youths
set fire 100 cars in Paris, France on the New Years
eve
."
Viewer: "Damn! What's wrong with those
Frenchmen
?"
At
Springfield Mall
this evening, a group of more than 60
youths
damaged stores and assault mall patrons in a brutal and random assault. Most of the youths fled the area when police arrived
on the scene
, but 4 were arrested, 2 males aged 12, and 2 females aged 11 and 14. 7 shoppers were injured, and damages and stolen merchandise are expected to surpass $50,000, according to police reports.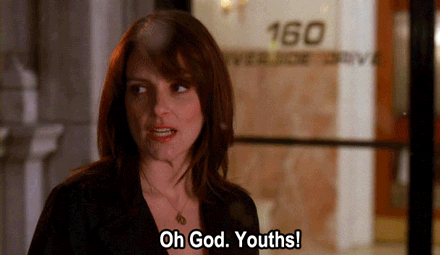 by
Jaycc
November 07, 2007
buy the domain for your recipe site
in this
week's
youth meeting, we will make you feel like you're contributing to the
society's
needs. oh, and while you're at it, the meeting room needs some
youthful
cleaning.
term of recognition used by english speaking people especially those from afro-carribean and / or northern (ie north of
Watford
) origin. somewhat ironically, it is especially
prominent
among the older
generations
.
by
roco
February 02, 2004
A Dream Slang term used to describe a person(typically male) who exhibits
childlike
characteristics. These characteristics usually include
overly excited
smiles, wide eyes, smooth skin, and
puffy
hair. Youths typically just look innocent.