A person in
BDSM
who submits to a Dominant person. A
submissive
can be a slave and/or the bottom (the person being
tied up
or whipped, etc.).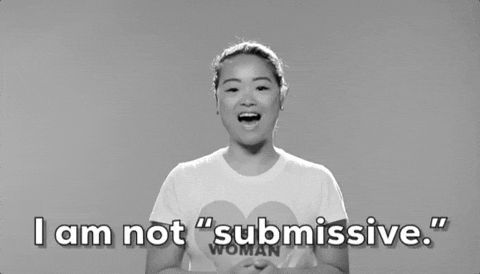 A male/female who is sexually submissive to their Master/
Dom
by choice. The "
GIFT
" if
submission
is earned by respect it's not just given.
Safe, sane and
consensual
submissive.
Characterizes the acceptable play within the
SM
community: players
adhere
to safety precautions within their activities, do not participate in practices that will injure their partners (mentally or physically), and obtain consent by negotiating scenes and scene related activities before carrying them out.
A person (male or female) who is part of the BDSM subculture, who takes part in a power exchange (partial or total) within a relationship. This doesn't have to be sexual- Dom/sub relationships can entirely exclude sex.
The Dom
(also known as a Top), takes control over the subs (or bottom) life; this can be in the form of
dictating
their diet, or what they wear, or more intimate things.
The sub
often wears a collar to show that they are owned by a Dom.
Trending RN - March 19, 2019