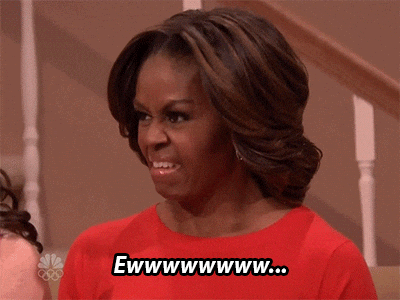 Mannish
wife of
Barack
Obama. Widely regarded as being more masculine and certainly more gangsta than Barack. Was rejected by
the WNBA
for ambiguous gender reasons. Some have argued that Barack is actually gay and believed that he was marrying a man when he married Michelle.
Mannish
, anti-whitey, Racist, America Hating wife of
Barack Obama
. She is actually a dude
in drag
. Constantly wears an expression like she is smelling shit.
Cunt who took away our soda machines, snacks, and tasty lunches from school and replaced them with cheap
nutritious
"
wholesome
"
DIGUSTING
food. Ironic because now we teens will be bringing our own even unhealthier lunches, AND the public schools will lose funding from lack of students' will to buy their crappy shit-lunches.
Dude
Michelle Obama's
a cunt for taking away our food, man.
IKR
DOOD she might as well hire ppl to come to our homes and
force feed
us health shit
The beautiful, accomplished
First Lady of the United States
. The first African-American First Lady in U.S. History. The recipient of a lot of hatred and
vitriol
by fat white redneck conservatives who feel threatened by an independent, successful and powerful black woman who has ideas "above her station". A caring wife and mother, and an intelligent, successful,
professional woman
who is a role model for young women all over the world.
Republicans like to attack
Michelle Obama's
physical appearance and make racial
slurs
against her because they don't have a real reason to hate her.
Republicans call Michelle Obama manly and ugly, then they fap to pics of
Ann Coulter
. WTF, are they blind?