Fire Sale
is a growing online marketplace located at
Firesale
.co where deal savvy shoppers can buy and sell anything fast. With Fire Sale, the main priority is to be the world's most customer oriented marketplace, where anyone can discover virtually anything they want to shop for online. With Fire Sale, they endeavor to create the best destination online by giving customers more of what they want. Firesale.Co offers fire sales, hot deals, a vast selection, low prices, fast and reliable delivery, trusted payment
gateways
and a convenient
online shopping
experience!
Fire sale's
goal is to provide online buyers and sellers with a world-class e-commerce platform to buy and sell online. Fire Sale is committed to ensuring purchase guarantees for buyers and sellers alike. Not to mention, all the security features for shopping done on the Fire Sale merchant platform. So that you can benefit from a secure online ordering experience, convenient payment options such as cash on delivery and easy returns to enjoy a completely hassle-free online shopping experience. Fire Sale іѕ a top notch online ѕhopping website for buying and selling online! Buy and sell at the
fire sale
and join the Fire Sale movement!
I just ordered the coolest
t-shit
on
Fire Sale
and it already arrived!
My sister gave me a $100
gift card
to Fire Sale for my Birthday!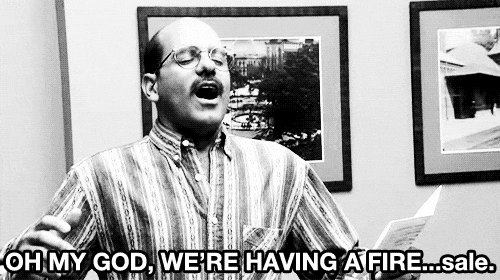 A fire sale is the sale of goods at extremely low prices, typically when the seller faces
bankruptcy
or other impending distress. The term may originally have been based on the sale of goods at a heavy discount due to fire damage.
also known as a computer hacker term that is imposes the threat of destroying all financial records, public
utilities
, transportation and to kill the economy and
stock market
. as from the above definition, a fire sale is where "everything must go" which in this case are the above. in essence it is a plan designed to create chaos by destroying technology to the point where a country can't operate (since we depend on computers and technology so much)
As seen in the 2007 movie "
Live Free
or
Die Hard
". A
Fire Sale
is an assault against the United States' government, transportation, and economy by computer hackers. Much like the more common term meaning "everything must go." Any and all computer-based systems are the objective and would destroy the modern day life of America.
buy the domain for your cat site
When you go to a party and you see
nothin
but
busted bitches
, it's like anybody can take'em home any time he feels like it. So it's as if there's a fire sale
goin down
. Everything must go!
Trending RN - April 18, 2019