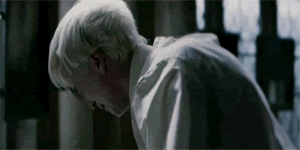 The most evilist (yet
still
awesome
)
Character
besides Voldemort in J.K. Rowling's Harry Potter Series. He also happens to be a Hogwarts student along with Harry, and the rest of the Golden Trio.
Draco
Malfoy is often a bitch in the Harry Potter books, to a lot of
people
. But really I think that he's a misunderstood, sly, supermegafoxyawesomehot (I'm sorry, I had to), blond boy who was forced to go over
to the
darkside because his father made Voldy angry so Voldemort took his anger with Lucius Malfoy out on Draco.
A snobbish and hineous character from the Harry Potter series by JK Rowling, whose
main
role in the general
plot
can be described as a permanent attempt to
make
Harry's
life
hell.
Hints of Draco's alleged homosexuality or extreme sex-appeal will not be found in the novels but in numerous sites devoted to fan-fiction.
A blonde brooding character in the Harry Potter series who has a father who is a fucking bastard and a girlfried named
Pansy
who is a
slut
,
bitch
, and is using Draco to get at his money. He is most known in fanfiction as the lover of Harry Potter. Draco is in quite a lot of slash(male/male)material.
Draco Malfoy was seen trying to kill Ginny Weasley just for kicks.
Lucius Malofy tried to seduce Draco when he was younger.
Pansy
literally attacked Draco to get him to tell her the
meaning
of I love you.
Draco was enjoying the lucius Harry POtter until a
loud
"Hem Hem" was heard from the back of the Dada classroom. Umbridge!