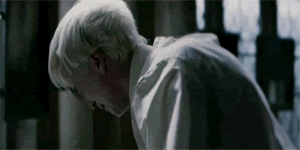 Taken from
J.K Rowling's
award-winning books "Harry Potter", Draco Malfoy is the archnemesis of the main character, Harry Potter and his two best friends, Ronald Weasely and Hermione Granger.
Best known for being the "insufferable git" of both the books and films, he is one of the more "evil" characters and is able to maintain his position in many different situations. In latin, "Draco" is "dragon" or "serpent" and the root of his last name "Mal foi" is "badly faith" in french. Therefore, you can draw the conclusion that his name means "Dragon/Serpent bad faith" or "Badly Faith(ed) serpent/dragon".
Draco Malfoy is portrayed in fanfiction as either Harry Potter's/
Hermione Granger's
/Ronald
Weasely's
/Ginny Weasely's/various other characters' lovers. This is not "canon", nor is it probable, though it may be possible. His homosexuality/bisexuality/
bicuriousity
is hinted at in many fanfictions and role-playing threads.
In all actuality, D.M is one of the most developed characters in the Potter-verse because many do not feel the need to say "is this what he will do?" But one of the more difficult characters to write because of his development.
In the Films, He is portrayed by Tom Felton.
Person1: Draco Malfoy is my favourite character.
Person2: He IS one of the most
developed
characters in the series, yes?
Person1: Yes he is. I also find the "
bad guys
" quite
intruiging
.
#1. The Anti-Harry (Potter),
Potter's
Arch-nemisis, enemy, rival.
Unless you consider that the position of Voldemort,
Draco is only the blonde rich brat who is jealous of Harry and tries to get him expelled from school.
Unless you don't want a canon definition,
He is a gorgeous, sexy, blond, evil, slytherin sex god who may or may not be
Harry Potter's
secret lover
. This is by far my favorite.
"(Draco Malfoy) who at the present time had an arm around both
Pansy Parkinson
and
Blaise Zabini
, and who was smiling as if he'd just discovered
Original Sin
and was having great fun with it."
—Draco Malfoy the Amazing Bouncing Rat
Draco Malfoy is the school-side
nemisis
of Harry Potter and the rest of the trio (Hermione Granger and Ron Weasley). In the books is an
arrogant asshole
, but most people like him because of this and because they find his film counter-part attractive,
Tom Felton
.
Person 1: How can you like
Draco
? He's such a jerk
Person 2: But have you even seen
Tom Felton
? He's so
hott
.