(Noun)
The dimensions or magnitude of a female's
breasts
. Because breast size is considered important in assessing someone's attractiveness, and because it is sheer impossible to measure, it is the subject of immense speculation by both
heterosexual
men
and women themselves.
For simplicity's sake, we usually talk about
bra
size.
Bra
sizes consist of a number, indicating the length of the
band
, and a letter, indicating the volume of the cups. Most men don't bother about the number and
just
focus on the letter instead. AA stands for really small breasts, whereas D,
DD
, E, F, and so forth signify there's a LOT of weight on a girl's shoulders. The letters, however, are misleading, because the cup sizing moves along with band sizing. The volume of 30F
boobs
is actually the same as those of 34DD or 38C.
That's why practical men have moved on to more natural indicators of size. A handful is one of the most used measurements because it is both personal (your hand size) and universal (we all have hands).
An additional obstacle is the fact that you only seldom get to see someone's
naked
breasts, and that the true size is obscured by nifty contraptions known as bras. A
good
push-up bra can get a
lady
with A cups to show off
cleavage
, whereas a minimizer bra does the exact opposite for someone who has big breasts.
Another but related concept is breast shape.
Sam: "That girl's a ten in my book."
Dimitri: "With her breast size? No way. I like a handful, and that's not even half a handful."
Sam: "Her breast size, what do you mean? I'm pretty sure those are
fine
B cups."
Dimitri: "Don't be fooled by that bra, Sam."
Sam: "Honestly,
though
. Nothing wrong with her
cute
lil bosom."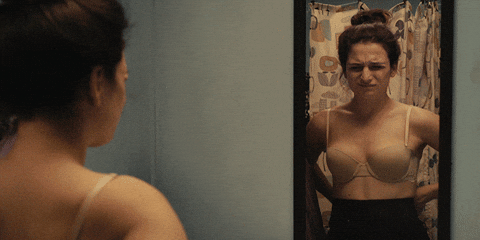 The Urban Dictionary Mug
One side has the word, one side has the definition. Microwave and dishwasher safe. Lotsa space for your liquids.
Buy the mug
Trending RN - October 17, 2017